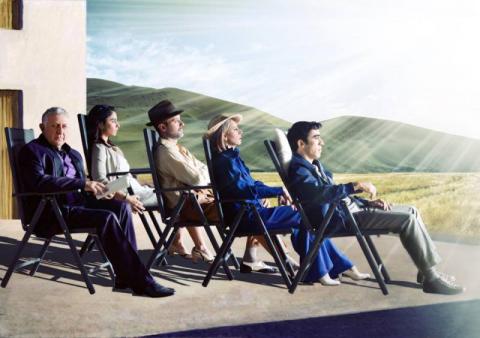 How much innocence can an era of dependence, an era of tough survival, handle? An unemployed young boy and a girl who has the gift of foresight are looking for money to go on summer vacation. The owner of a wretched bar and the barwoman are looking for a "dealer", so they place an ad. No matter how well you can predict the future, people always remain unpredictable.
Duration: 60 mins. Cast: 2 female, 2 male.
2nd Prize in the One-Act Playwriting Contest organized by Rhodes' International Center of Litterateurs and Translators along with DI.PE.THE of Rhodes, 2008.
1sr production: March 2015 at Aggelon Vima, Athens, Greece.
1st reading: Two-day New Greek Playwright Festival, 2001, Theatre of the South, directed by Vicky Georgiadou. Published by Anatolikos Publications, 2002.
2nd reading: DI.PE.THE. of Rhodes, 2009, directed by George Oikonomou.
3rd reading: Murphy Hall, 2009, Kansas, USA. Directed by Angela Chrysostomou. Translated by Angela Chrysostomou and Dennis Christilles.
4th reading: Tristan Bates, 2009, London, directed by Dan Barnard. Translated by Angela Chrysostomou and Dennis Christilles.
5th reading: Maison d'Europe et d'Orient, 2015, Paris. Translated in French by Eleni Mitsakou (L'EUROPE DES THEATRES - festival européen de traduction théâtrale).